Jess Smith, Owner/Operator
About Us
For over 40 years I have dedicated myself to gunsmithing, and SMITH GUN offers a wide range of gun specialties. I believe that if the repair work cannot be done at SMITH GUN, it just can't be done. Accurate rifles, whether hunting or bench rest, is just one of my many passions. Over the years I have built many accurate rifles. I consider an accurate rifle to be a rifle that will group a three shot group at a hundred (100) yards that can be covered with a dime or less, a "mickey mouse group."
I also build single barrel trap shotguns on a Highwall Martini/Greener action. Several of the shotguns I have built are in use on the ATA circuit. These shotguns are custom built for each individual.
If you would like a custom, accurate 1911, SMITH GUN is where you will get one. Ours are guaranteed to group less than one (1) inch at twenty-five yards in a Ransom Rest.
SMITH GUN also offers a variety of gun finishes. We electroless nickel, cold rust blue, hot blue, parkerize, and color case harden. Our color case harden finish is an actual case hardening process. It is the same finish that Colt uses on their SAAs. We also manufacture our own bluing salts and sell them within the industry. No more "plum" colors with our salts.
SMITH GUN is an actual gun shop and machine shop. We keep parts on hand for most guns, and we make parts for obsolete guns. We install screw-in choke tubes, muzzle brakes, and much, much more. E-mail us for any questions you might have.
In September 2015, I became a certified Licensed to Carry (LTC) Instructor and we now offer individual and group classes.   E-mail us for more information.
I am also an NRA Certified Handgun Instructor as of April 2014.
---
Jess & Connie Smith, owners | Jesse & Braunda Smith, employees
STORE HOURS 
Tuesday-Friday: 10:00 AM – 5:30 PM
Saturday: 10:00 AM – 2:00 PM
Phone: (325) 234-3973
Please Note: If we don't answer right away, we are most likely helping other customers. PLEASE leave a voicemail and we will get back to you as soon as possible. Thank you!
Closed Sunday and Monday
SMITH GUN IN THE NEWS 
Smith Gun was featured in a Standard-Times article for their February 19, 2012 issue.
The article is reprinted here courtesy of gosanangelo.com
"…if the repair work cannot be done at SMITH GUN, it just can't be done."
None of the labor prices include parts unless noted.  Our work is guaranteed for 30 days from the time the gun LEAVES the shop and ONLY the portion we worked on.  If inletting is required to finish a particular job, we will charge extra without notifying the customer.  Jobs NOT listed on enclosed price lists wil be quoted individually.  We incur a labor minimum labor charge on all work; contact us for that amount.  When shipping to us, please pack guns well as we note ALL damage on ALL incoming guns.  We will NOT accept C.O.D. packages.
Things we DON'T do:
Checkering
Carving
Magna or Pro Porting on rifles or pistols (We DO port shotguns)
Putting rifleing in barrels
Engraving or Scrimshaw
If shipping, please include detailed instructions and a phone number at which we may contact you during and after business hours if there is a problem or we have a question. We CANNOT remember every instruction we receive by phone as we receive MANY guns weekly that are shipped to us.
We wil NOT do "FIX THIS ONLY" type of repair if other safety problems exist. We WILL repair the safery problem as well without notifying
you and will charge for ALL repairs.
When we receive a gun for bluing that is severely pitted, we use our judgment on how deep to buff. Sometimes it is not practical to go to the bottom of the deep pits, and the remains of the pit(s) will be evident.
When we install sights, we guarantee the installation (labor) ONLY.
When doing high polish blues, the best jobs can be expected ONLY if the gun is in good shape to begin with. To make a beat-up, pitted gun look like new with a high polish blue, an extensive amount of added work will be necessary. If you want special results, you MUST advise us in advance and expect added charges on the bill.
PRICING 
To stay competitive, we do not list prices; however, all prices are subject to change without notice.
E-mail us for a quote.
NOTE 
We incur shipping and handling charges.
ALL guns are shipped UPS ground unless otherwise specified. Please be sure to include your physical address for us to return your gun to you.
We have a wide range of gun specialities.
The Smith Ranch is situated in West Texas approximately 36 miles Southwest of San Angelo, Texas, and about 200 miles Northwest of San Antonio, Texas. It contains one (1) square mile of semi-desert country with hills, a spring, and has abundant live oak, mesquite and cedar trees for wildlife cover.
The Smith Ranch has been owned and operated for almost 100 years as a cattle operation and is now offering excellent deer, dove and turkey hunts.
An extensive feed program, including a high protein diet, supports the wildlife. The Smith Ranch maintains this feed program from boundary to boundary but leaves the animals completely FREE RANGING with no high fence and no imported breeding stock. The deer and turkey are truly native to the area.
The hunts for the coming season will be conducted on a portion of the ranch which in the years past was reserved for family members only. Deer are fed through automatic feeders year-round. White tail deer hunts are guided hunts, and meals are included.
Once the site has been reserved, your party has exclusive access and use. In addition, if you choose to bring your own hunting dogs, you may do so.
As prices will reflect, there is no fancy lodge or after hour's entertainment…just great hunting. The hunt is limited to six (6) persons per party for deer or turkey and ten (10) persons per party for dove hunts.
Electrical hookups are available for an extra $10.00 per day per hookup.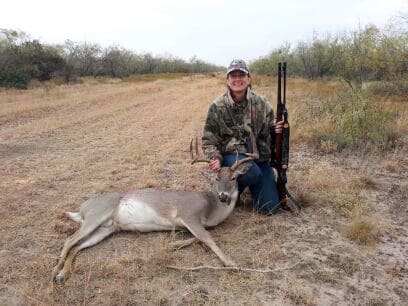 Spring Turkey 
GOBBLERS ONLY LEGAL LIMIT $150.00 PER PERSON PER DAY 2 DAY MINIMUM
Fall Package Hunt 
2 FULL DAYS HUNTING 1 BUCK–8 POINT OR BETTER & 2 DOE $2,800.00 PER PERSON ALL INCLUSIVE PACKAGE* $2,000.00 PER PERSON BASIC PACKAGE* 2 PERSON MINIMUM TURKEY ARE AN EXTRA $50.00 PER TURKEY * Please ask about package details
Dove Hunts 
2-DAY HUNT–$75.00 PER PERSON 2 PERSON MINIMUM
The Smith Ranch has been owned and operated for almost 100 years as a cattle operation and is now offering excellent deer, dove and turkey hunts.
This is NOT a new product! It IS a bluing salts developed by Mr. Christy with the help of several chemists in 1935, and has been used continually by us since that time. There is no guess work, nor is there any doubt as to the results with these salts. They work at temperatures of 285 – 315 degrees Fahrenheit and give a rich, deep lasting blue when used at the proper temperature. When conditions are correct, these salts will do the actual bluing in 20 seconds to 2 minutes.
GREASY HANDS CAN BE FORGOTTEN! We have deliberately rubbed oil on a gun barrel to demonstrate that it will not restrict the bluing process. Although in time, oil will contaminate these salts.
The CHRISTY BLUING SALTS were developed to blue guns, and will NOT blue: cast iron, stainless steel, or non-ferrous metals. They will do a beautiful job on practically all steel used in the manufacture of guns, including nickel steel. It does take longer to blue nickel steel parts due to the composition of the metal. It will not blue stainless steel.
A thermometer will allow you to know when the correct temperature has been reached and the metal has begun the bluing process. If bluing has not begun, you will need to add more water or salts.
WATER is used to lower the temperature. TEMPERATURE can be raised by: (1) evaporating the solution by boiling, or (2) adding more salts.
These salts WILL NOT have to be thrown away, UNLESS contaminated with aluminum, brass, copper, etc. It is necessary to add more salts from time to time to replace loss due to the small amounts left on parts when they are removed from the solution.
CHRISTY BLUING SALTS are furnished to you in "brick" form. The "bricks" weigh approximately 10 to 15 pounds. THERE IS NO CYANIDE OR OTHER POISONS USED IN THESE SALTS. THE SALTS ARE EXTREMELY EASY TO USE. To the weight of these salts you add equal amounts of water by WEIGHT.
EXAMPLE: 15 pounds of salts + 15 pounds of water.
BLUING SALTS PRICES ARE DETERMINED BY WEIGHT IN WEIGHT GROUPS:
30-60 lbs.
61 lbs. & up
We also manufacture PARKERIZING SOLUTION with the same high quality as our bluing salts….PRICED PER ONE QUART.
WE ALSO SELL:
LEA COMPOUNDS:
C – Grit,
Grey Stick (grease stick)
Learock (green stick)
Muslin Buffs:
10″ x 1/4″
We also COLOR CASE HARDEN. This is an actual case hardening process (an actual heat treating process). It HARDENS AND COLORS parts.
---
Shipping, handling, & hazardous materials fees must be added to prices.
---
ALL PRICES ARE SUBJECT TO CHANGE WITHOUT NOTICE. E-MAIL FOR QUOTE
Our color case harden finish is an actual case hardening process.
BEFORE AND AFTER IMAGES: BROWNING FNA5
A Browning FNA5; Smith Gun refinished the entire gun–wood and metal
BEFORE AND AFTER IMAGES: KIMBER 1911 SUB COMPACT
Kimber 1911 Sub Compact brought in to Smith Gun as is from the factory; CeraKote finish painted on and baked, in Robin's Egg Blue
BEFORE AND AFTER IMAGES: WINCHESTER MODEL 97
Originally bead blasted; owner was unhappy with work from another gunsmith; had Smith Gun reblue and refinish the metal.
BEFORE AND AFTER IMAGES: REMINGTON 551
Remington 551 fully restored–wood and metal
BEFORE AND AFTER IMAGES: RUGER BLACKHAWK .41 CAL
BEFORE AND AFTER IMAGES: SAA COLT 45
SMITH GUN is an actual gun shop and machine shop. We keep parts on hand for most guns, and we make parts for obsolete guns.
(click each heading to open/close)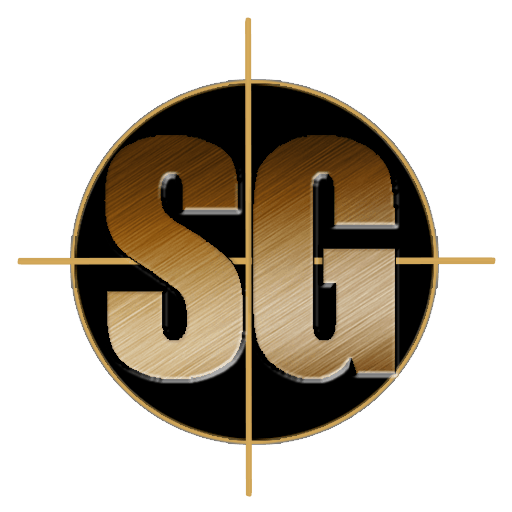 E-mail us for any questions you might have.
Contact Info
Jess & Connie Smith
325.234.3973
615 S. Chadbourne, San Angelo, TX 76903